Bria-IMT™
Latest Developments
BriaCell recently announced Positive Phase IIa Proof of Concept Data in Advanced Breast Cancer and initiated Combination Study.
BriaCell has achieved positive proof of concept in the Phase IIa study of Bria-IMT™ in advanced breast cancer patients
Data shows promising anti-tumor activity of Bria-IMT™ in heavily pre-treated advanced breast cancer patients
Impressive Phase IIa efficacy data is similar or superior to those of other approved breast cancer drugs when they were at a similar clinical-stage of development
Outstanding safety and tolerability profile for Bria-IMT™
Data confirms "HLA Matching Hypothesis" and supports BriaCell's strategy for the development of Bria-OTS™
BriaCell has initiated a combination study of Bria-IMT™ with Keytruda (by Merck & Co., Inc.)
BriaCell™ Therapeutics Corp's Poster Presentation at SABCS@– Dec 2018
About Bria-IMT™ (SV-BR-1-GM)
Developed and characterized by a team of dedicated scientists and clinicians, Bria-IMT™ (SV-BR-1-GM) is a targeted immunotherapy being developed for the treatment of breast cancer. Bria-IMT™ is a genetically engineered human breast cancer cell line with features of immune cells and clinically applied as a targeted immunotherapy.
The mechanism of action of Bria-IMT™ is currently under investigation. We suspect that the expression of certain immunogenic peptides in Bria-IMT™ generates strong antibody and T-cell responses – which results in recognition and destruction of cancerous cells.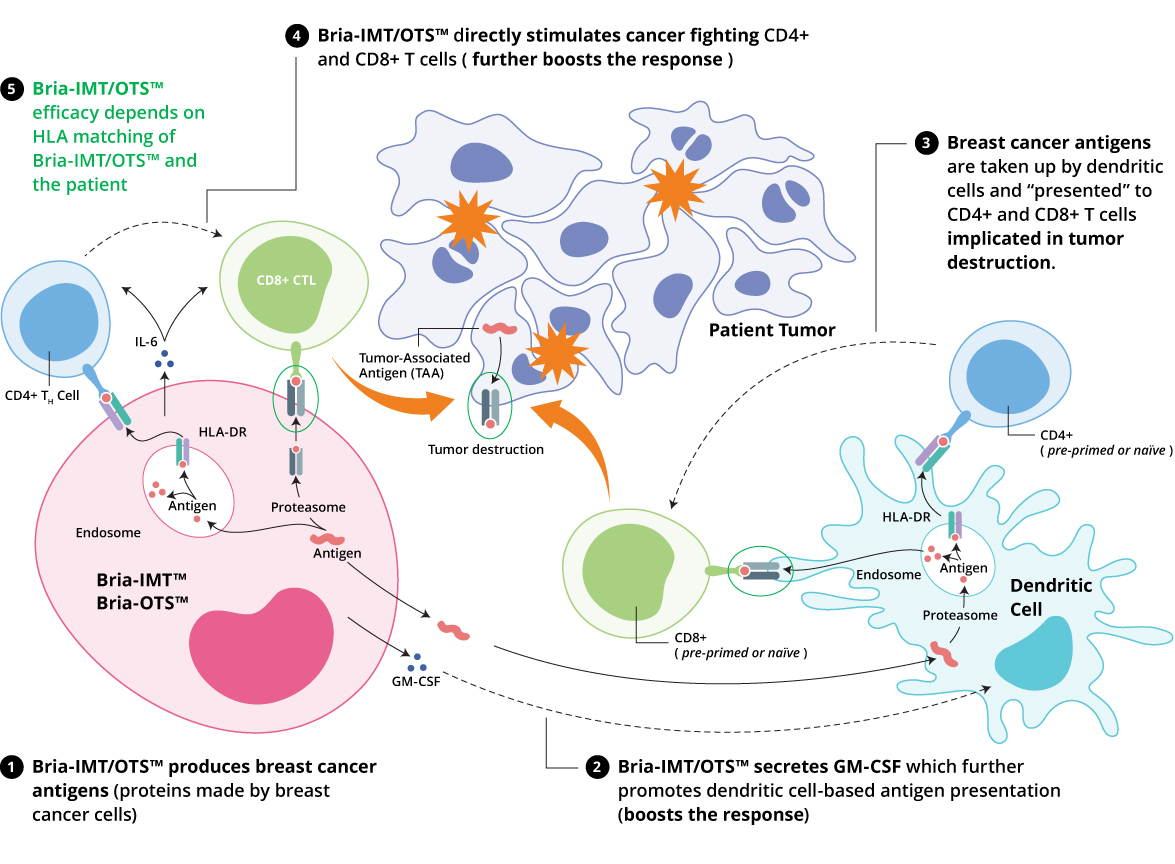 Bria-IMT™ is designed to secrete granulocyte/macrophage-colony stimulating factor (GM-CSF), an immune system activator. We believe that GM-CSF activates the T cells of the immune system to recognize the tumor cells as foreign, and eliminate them. To amplify the immune system activation of the cancer patients, we have combined Bria-IMT™ with other immune system activators including cyclophosphamide, and interferon-α, a cytokine. We believe this approach of simultaneous activation of the immune system via different immune-triggering pathways will improve the immune system response for recognizing and eliminating cancerous cells, and will ultimately enhance the clinical benefits of Bria-IMT™
Using BriaCell's novel technology platform and our strong R&D capabilities, we may have the opportunity to develop immunotherapy candidates for other cancer indications.
To provide financial and development support, we are currently discussing the development of our immunotherapy candidates with potential collaborators and partners.